Regular price
Sale price
$4.99 USD
Unit price
per
Sale
Sold out
Experience buttery, creamy vanilla from a sustainable, empowering Madagascan cooperative.  We never use chemist-made flavor, fragrance, or other nonsense.  Chemist-made flavor, common due to the price of vanilla, is a sad take on this noble orchid.
Key Ingredients and Benefits:
Ingredients

Organic Jojoba Oil, Organic Beeswax, Organic Vanilla Fruit Extract, Organic Rosemary Leaf Extract
Shipping & Returns

We carefully pack and deliver your order to the United States Postal
Service within one business day, including Saturdays. If your order is
over $50, we cover USPS First-Class shipping. We charge $4 to ship
orders under $50.
We stand behind every product we make. If a product does not meet your
standards, we will gladly replace it or refund your money within 4 weeks
of purchase. Simply send a note to info@drewshoneybees with your order
number, the reason for your return, and how you'd like us to make good
on our Guarantee (refund or replacement).
History

The Totonacs of eastern Mexico were the first to grow vanilla (Vanilla planifolia). The Aztecs acquired it when they conquered the Totonacs in the 15th century; the Spanish, in turn, took it when they butchered the Aztecs. Efforts to grow vanilla outside Mexico were fruitless until 1841, when a 12-year-old slave named Edmond Albius learned how to pollinate the blossom with a simple gesture, enabling commercial cultivation. Bravo, Edmond!
Share
View full details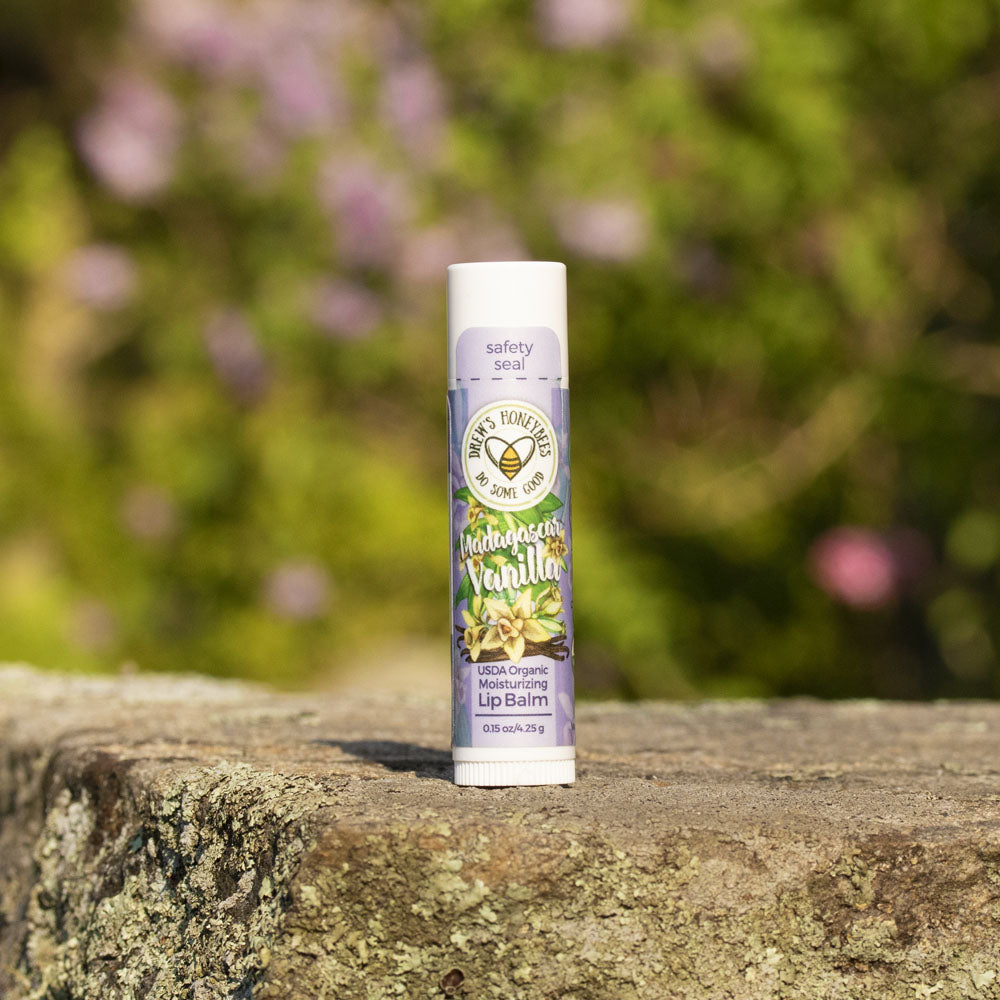 The best environmentally friendly lip balm
I love Drew's Honeybees Madagascar vanilla lip balm! It has a very nice vanilla scent and is super smooth. Drew takes great care of his bees!
Thank you, Rosemary. The woods are lovely, dark and deep,/
But I have promises to keep,/
And miles to go before I sleep,/
And miles to go before I sleep.
Great
I bought this for my daughter last Xmas and she loved it which is rare to be that enthusiast about this. I bought her 2 more this yr
Your daughter has a discerning palette! It's the genuine article–Vanilla planifolia. Making your tree or stocking is quite heartening now that I ponder it.
Thank you,
Drew
The very best!
You simply cannot find a better way to keep your lips healthy, moist, and kissable. The quality soars above the competition. Most lip products dry your lips out until they fall off. Drew's keeps your lips beautiful and firmly attached in a loving synergy and unity with your true core identity. "As goes the lips, so goes the whole self!" Use Drew's!
Wow, Thomas. We are grateful for your consideration and support.
Love this product!
I will go far and wide to find this product! So smooth, smells delicious, doesn't leave any annoying residue. Does it's job! Can't recommend it more!
Thank you, Stacia! Our vanilla is one of the better demonstrations of why we chose wholly natural and never sad, chemist-made approximations.
Chapstick love
Just got my first direct order from Drew's Bees which included all of the awesome chapstick I ordered but also a lovely hand written note from Drew and a beautiful skin salve to help with dry skin from all the constant handwashing. Love this company and their products.